Arts+Sciences will bring artists into the research process through an artist in residence program.
Art offers a pathway for CDCM to engage new audiences with the beauty, excitement, and impact of materials science and technologies. The artistic perspective not only communicates fundamental concepts in science to the public, it can also transform how scientists and engineers think about materials and stimulate new and creative approaches to CDCM research.
The artist residency enables artists to work with CDCM faculty to create contemporary art installations that demonstrate emerging science and technology, bringing fundamental concepts in science to the public in very tangible, engaging ways.
Our inaugural resident artist, Mr. Siebren Versteeg, created a dynamic video work incorporating themes related to materials, technology, and digital communication, now prominently on display at UT Austin. 
Our second, Ms. Virginia Lee Montgomery, will complete her residency in 2023.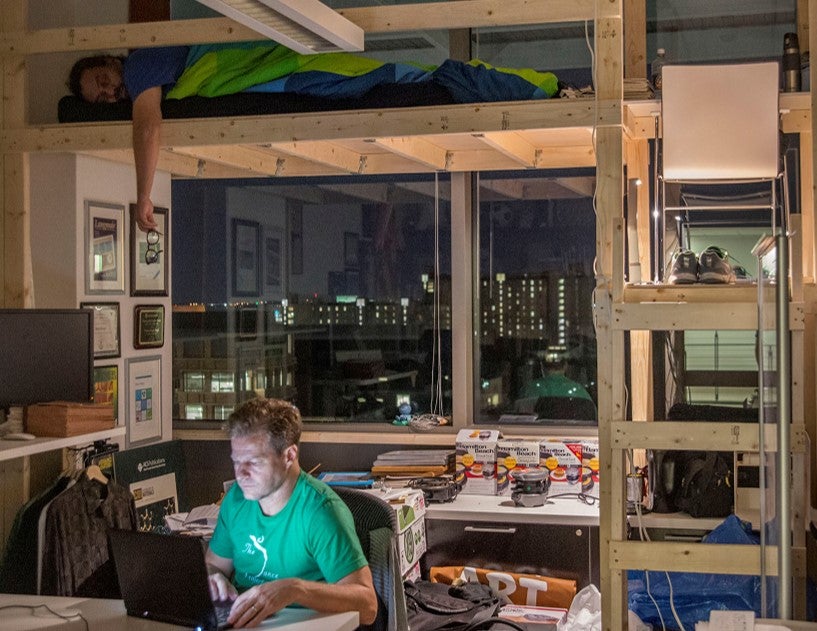 In the Arts+Sciences collaborative depicted to the left, Daniel Bozhkov, with the help of fellow artists Marie Lorenz and Jeff Williams, built a loft and lived in the 'unused' top six feet of space in Dr. Brian Korgel's office on the sixth floor of the Norman Hackerman Building, the location for Korgel Group Nanomaterials Lab, at UT.  For the duration of the project, the artist and the scientist conducted a number of 30-minute sessions at which the scientist explained one advanced nanotechnology concept per session.  The artist listened carefully, tried to understand to the best of his abilities, then rested, and responded at the level of his understanding, by interacting with different objects and spaces inside the building.  The project includes household items used during Daniel Bozhkov's inhabitation, as well as drawings and a video of these interactions.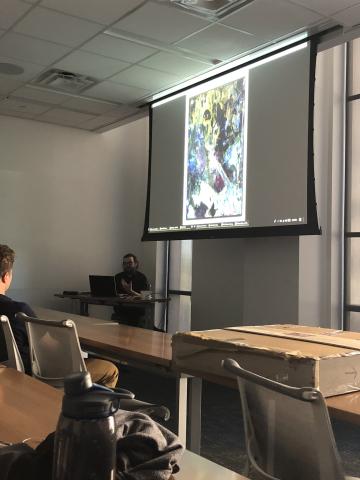 Artist in Residence Siebren Versteeg presents his pitch to students and faculty.
Previous Artists in Residence