Broadening Participation
The CDMC Broadening Participation Strategic Plan includes recruiting and supporting the success of diverse students, faculty and staff and creating a culture of inclusion throughout the Center. Diversity metrics, including numbers of U.S. Citizens, females and underrepresented ethnic minorities engaged across all levels of the Center, and assessments of the Center's culture, are reviewed annually by CDCM management and advisory boards. Across the 72 funded individuals who completed the 2023 annual demographics survey, 49% are female, 26% are underrepresented racial/ethnic minorities, and 4% are persons with a disability.
Broadening Participation - CDCM On Campus & In the Community
CDCM graduate student stands in front of screen with camp participants in foreground
CDCM graduate student stands in front of screen with camp participants in foreground
Group of CDCM graduate students and artist in residence from Women in STEM high school summer camp
Creating a Culture of Inclusion
In addition to integrating efforts throughout all levels of CDCM to increase the diversity of students, faculty and staff, the Center is committed to creating an inclusive and welcoming culture. Center activities include:
Celebrations of the interdisciplinary and multicultural teams and team members throughout the center in the CDCM eNewsletter and other events.

Gratitude moments and mental health moments in meetings, eNewsletters and other events.

Workshops on how to be an effective STEM role model and how to engage all students, in particular those from groups historically excluded from STEM majors and career paths, and the public in outreach and education efforts.

Supporting the Student Leadership Council with periodic meetings with center leadership to discuss graduate student and post doc well-being, strategies to support students, and ways to create a more inclusive research group, lab, and center environment for all center participants.

Peer mentoring programs to connect undergraduate and graduate students with peers in the center for sharing resources, answering questions, building a community, having fun and more. See the side bar for more information and a link to apply.
CDCM Newsletters
Download past CDCM newsletters for health and wellness tips, multicultural celebrations, campus resources and more.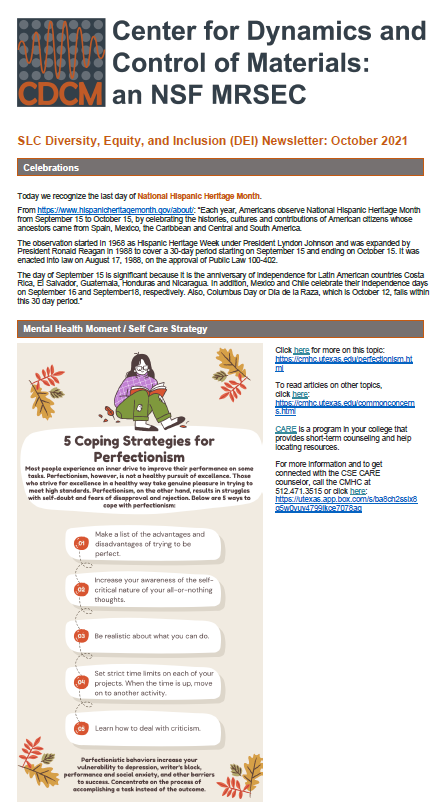 Creating a Culture of Inclusion: Join the MRSEC Peer Mentoring Program
Connect with other MRSEC students MRSEC in a mentoring pod for advice on campus and community resources, graduate school, research, life in Austin, or whatever else you need! These mentoring pods can bring you valuable connections and resources, new friends, collaborators and lots of fun.