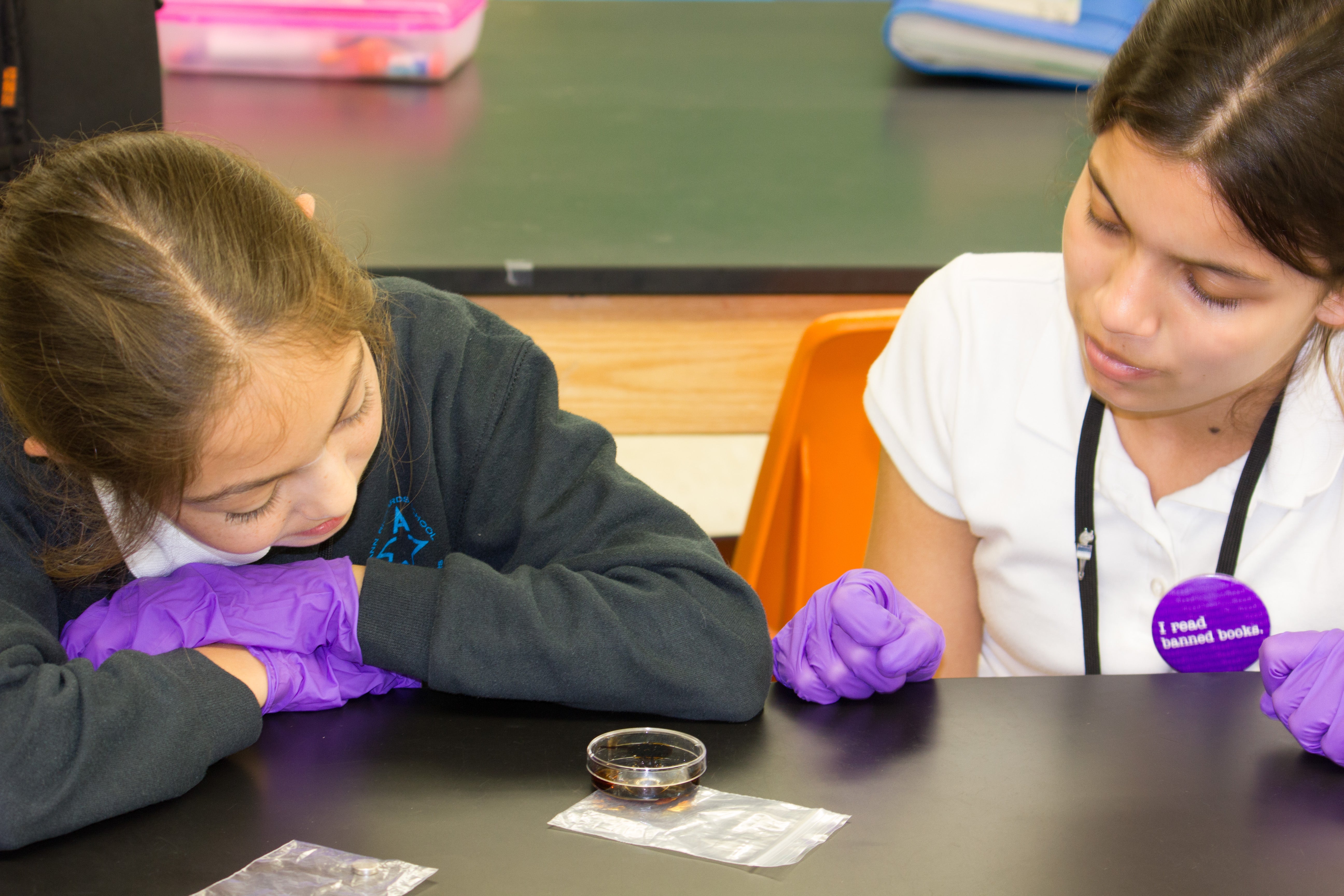 Public outreach and education of the K-12 community is central to overarching vision of CDCM. It is the goal of the CDCM K-12 program, known as STUFF, to educate teachers, students and parents on materials science, dynamics and the control of materials. This outreach will excite students about science and technology, teach them fundamental concepts, illustrate the endless career possibilities available to them through a materials-based science degree, and above all, foster a love of discovery and innovation.
Core STUFF programs and initiatives:
Strategic School Partnerships
Science Academies in Underserved Schools
Educational School Visits
Fieldtrips to CDCM labs
Teacher Professional Development Days
Research Experiences for Teachers Program
Community Outreach events like Explore UT & Girl Day
Education Outreach Programs September 2023 - May 2024
These activities are volunteer driven and couldn't happen without your support! Please contact Risa Hartman at rhartman@che.utexas.edu to learn more about getting involved.
Volunteer Training:
**Role Models Matter Workshop– A workshop around Best Practices of working with K-12 students
It is strongly encouraged that you take a K-12 Mentoring Workshop – Role Models Matter – in advance of participating in outreach events. In this workshop you'll learn best practices around working with K-12 students. The next Role Models Matter Workshop will be held on October 3, from 11:00-12:15, in EERC 3.640/3.642. Please RSVP to rhartman@che.utexas.edu. A K-12 Outreach Certificate will be awarded to you after you complete the Role Models Matter Workshop and 5 hours of outreach activities. This certificate is an excellent addition to your CV or resume to show your commitment/passion around educating the next generation of scientists and engineers.
Volunteer Opportunities:
Elementary School Science Academies
Partnerships with several local schools have been established to give those students an opportunity to explore the world of science and engineering while engaging with UT graduate and undergraduate students. These academies occur once a month, last approximately one hour and consist of engineering/science lessons taught through group activities and experiments.  Volunteers needed to run activities with the students.
Bernice Hart Elementary (club held afterschool)
Fall dates TBD
Rodriguez Elementary (club held afterschool)
September 13
October 11
November 8
December 6
STEM on the Spot (SOS) Days at Rodriguez Elementary
Once a month this school dedicates an entire school day to STEM! All of the teachers have hands on STEM activities they lead with their students in place of regular school-work. The MRSEC hosts STEM activities for two grades per SOS day and we need your help to facilitate these activities! Sign up to spend a couple hours exciting the minds of students with engaging STEM activities! We supply the activity and supplies – you just need to show up and help support the lead MRSEC SOS facilitator for the day and interact with the students around the activity. Dates for the upcoming year are:
September 29 (5 and 6)
October 30 (4 and 3)
November 30 (2 and 1)
January 31 (Kinder and PreK)
February 29 (5 and 6)
March 28 (4 and 3)
April 30 (2 and 1) 
School Fieldtrips to Campus
Elementary School Fieldtrips to MRSEC
K-8 graders will visit UT this year to learn more about science, STEM careers, and cutting edge research being performed at UT. The elementary school students will participate in various tours on campus and also experience hands on STEM activities and demonstrations. Each student will be able to self-select 3 tours that interest them the most. Approximately, 6-8 volunteers will be needed to facilitate the tour/activities in their labs. Date of the tours are listed on the volunteer sign up spreadsheet.
Science Fair Student Support at Rodriguez Elementary School
The school is looking for volunteers to mentor 5 grade students on their science projects. Volunteers are also needed to act as judges the day of the Science Fair. The fair will be held in the spring date TBD, from 8:00 am -12:30 pm. 6-10 volunteers needed
World Engineering Day – October 29, 2022
This is an event that geared towards local Austin K-12 students, their teachers and parents. It is held each Fall at UT and different departments/student orgs sponsor activity booths and demonstrations that are creative, engaging, educational and above all fun! The event runs from 9-12 on Saturday, October 29 with two shifts for volunteers to choose from. 
Texas School for the Blind and Visually Impaired (TSBVI) STEM Day – Feb 2024, date TBD
This will be our 5th annual STEM Day hosted for blind and visually impaired students at TSBVI. We will facilitate 8-10 accessible STEM activities for these students, allowing them to interact with science and engineering in a hands-on and engaging manner. Blind and visually impaired students are one of the populations typically left out of mainstream hands-on science. Through events like this small modifications to ensure that all students can have an opportunity to participate in engaging science and engineering. Examples of last year's activities include: designing their own breadboard circuits that can filter sound, creating a catapult that launch a ball with sounds, newton rocket cars, slime and balloon rockets. Event to be held on a Saturday in Feb, date TBD. TSBVI. 8-10 volunteers needed.
Introduce a Girl to Engineering Day – Feb 24, 2024
Students and their parents or educators come to UT for an afternoon of engineering fun. UT's national award winning Girl Day, presented by the Women in Engineering Program (WEP), gives over 2,000 first through eighth grade students a chance to:
Have fun doing grade-specific, hands-on engineering activities,
Meet students, professors and engineers from industry, and
See what it's like to be an engineer.
Volunteers lead hands-on engineering activities, answer questions for all our guests, set-up and clean-up, and more. Inquire for more details on how you can get involved through the NASCENT ERC or MRSEC. Event will either be in-person or virtual.
Outreach Club
Interested in designing engaging science and engineering activities for K-12 students? The designed activities will be used in MRSEC and NASCENT outreach programs like those listed on this sheet. The Outreach Club meets regularly, about 1-2 times per month. Let me know if you are interested!
Middle School Tutoring at Kealing Middle & LASA High School
Help local youth in our community learn essential math and science skills during tutoring sessions at Kealing Middle School and LASA High School. Tutoring support needed from 10 am – 1pm, Mondays – Fridays & 3pm-5pm, Mondays – Thursdays. Tutors would work within an already established tutoring program at both of these schools.
6 Grade Engineering Advisory Days at Kealing Middle School 
We will again be partnering with ACES (Austin Civil Engineers Society) to provide all of the 6th graders at Kealing Middle School with an Advisory Engineering Lesson which will also serve as an introduction to their STEM Day held later in the Fall.  The plan is for half of the 6th graders to participate on day 1 and the other half on day 2.  This will be in collaboration between ACES, UT Engineering Fraternity, 3M and MRSEC/NASCENT. Volunteers needed from 8am – 10 am on dates TBD to facilitate pre-designed lessons and activities.
K-12 Volunteer Sign Up 2022-2023
At Home STEM Projects